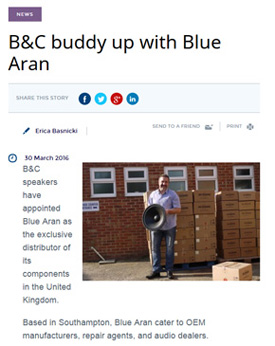 We are delighted to have been appointed the position of exclusive distributor of B&C speakers in the UK, regarded by many as the best loudspeaker manufacturer in the world, providing OEM components to the world's best cabinet manufacturers.
Adding B&C to our portfolio of brands firmly cements our position as the UK's number ONE stockist of loudspeaker components, holding more stock, and a wider range than anyone else in the UK.
We have already taken delivery of several shipments and stock levels are increasing to a suitable level to serve the demands of the UK industry. With a new price structure that takes into consideration the modern discerning end-user who requires a good balance of performance and price, we believe that B&C is now set to grow in the UK and attract a wider range of customers.
We are able to cater for all parts of the UK pro-audio industry, serving both small and large customers directly from our UK stock.
Trade and OEM customers are welcome to contact us for pricing, please email the sales office for further information.