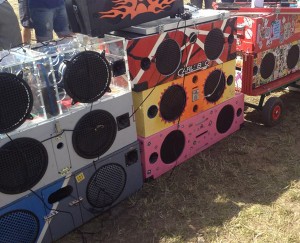 The Boominator is a bipolar ported 2-way boombox, designed for very high quality sound reproduction coupled with high efficiency. It is ideal for use outdoors, optimised for long durations running purely on batteries and solar power, making it perfect for festival-style events.
All the parts are readily available, and the design is free for anyone to use, making this an ideal DIY project for anyone who wants their own portable, battery powered speaker system.
What makes the Boominator special?
High sensitivity, lightweight woofers have been selected, with a pair of drivers per side – one firing forwards, one firing backwards, mounted  with magents back to back  in a structurally sound cabinet – which helps increase bass output by maximising sensitivity and efficiency. A sensitivity of around 98dB 1W/m is common, which combined with a high efficiency amplifier allows for extended use (10+hours) running off a battery.
Boominator Wiki
Everything you need to know about the Boominator: http://boominator.dk/
Boominator Sketchup
3D Plans for the boominator available here: SketchUp Drawing
Boominator on Facebook
The Boominator Facebook page includes lots of build projects and current information: https://www.facebook.com/theboominator
The Boominator can be built using relatively low cost components, and the original design for the standard boominator included the P-Audio HP-10W:
Nominal Impendance: 8 Ohm
Frequency response: 44-4,000 Hz
Sensitivity: 96 dB (1W/1m)
Net Weight: 3.14 kg / 6.90 lbs
 Blue Aran stocks many of the parts required to build a boominator
Boominator Speaker Pack of 4 P-Audio HP-10W with 4 Piezo Tweeters
Boominator Speaker Pack of 4 P-Audio HP-10W with 4 PHT-407N Tweeters
Have you built a Boominator? Tell us what you think, or email us some pictures!