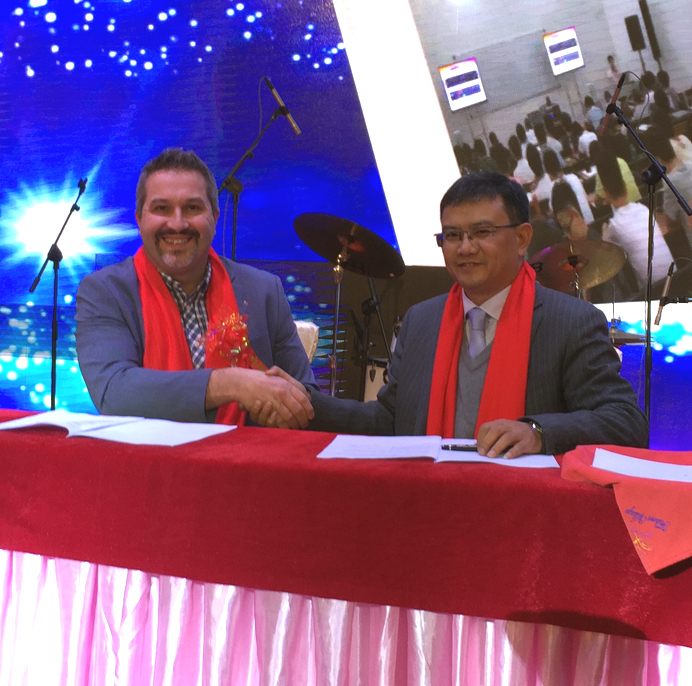 After working closely with dB-Mark since 2014, we were invited to visit their headquarters in Guangzhou, China to join them for their 25th Anniversary celebrations, in February 2017. This was also a great opportunity to formalise our trading relationship, and an exclusive distribution agreement for the UK and Ireland was signed as part of the weekend's celebrations.
On the left is Andy Kos (Director of Blue Aran) and on the right Roger Xu (Managing Director of Guangzhou Desam Audio)
Blue Aran was presented with a certificate confirming exclusive distribution in the United Kingdom, and during our week with our hosts Melody and Roger, we also provisionally agreed exclusive use of the dB-Mark brand throughout Europe. From the summer of 2017, all dB-Mark branded products will be exclusively available from Blue Aran, and we are increasing our stocks accordingly.
To coincide with their anniversary celebration, Desam Audio also had a factory opening ceremony for their new factory in Enping. This new, larger facility will enable larger manufacturing capacity to keep up with growth in demand of their excellent range of products.
We're looking forward to a prosperous future with our new trading partners.